Photo set 1 for sale now!
By popular demand I just launched my Photo set 1 in my store. I have had so many requests from so many of you. Wanting to see every inch of Ms. Susan completely naked. Longing to look inside my hot wet pussy!  As you see my tight little asshole completely uncensored.
I know your hunger. Mommy has listened. Putting together a very erotic hard core photo set. Showing all of my natural curves. Deep inside my hot wet vagina. Deep inside my tight little ass. Spread nice & wide for you to jerk off to.
Photo set 1 is only $12
My Photo set 1 is available for your pleasure.  You can purchase my very first picture set for only $12. It supports what you love me to do! The photo set is a set of 8 hardcore pictures of me showing off my big tits, round ass and spreading my juicy pussy lips for your pleasure.
Showing you the very best your favorite kinky Milf has to offer. Get your hands on my nudes. See all my naughty bits. My blogs do have lots of pictures of me. This photo set is completely Uncensored. Letting you see all the bits of me I don't show on my public website.  Giving you a private up-close look at my most delicious pretty pink parts.
My Photo set is delivered by automatic download!
No waiting to get your hands on my  Photo set 1. All my naughty pictures will download to your phone or lap top. Where you can hold onto them forever. Adding more value to our calls together. Imagine edging yourself to every inch of me. Hardcore photos of yours truly. Spread nice & wide for your kinky phone sex pleasure.
Why wonder what I look like out of my cloths? Why ponder when you can purchase? My 8 hard core photos are just $12. A discreet online purchase that lets you download my personal pictures. So you can see all of me at my most vulnerable. Yours to keep & enjoy endlessly. It's ok to perv on my photos. Knowing your looking at my hard core uncensored pictures gets me so wet!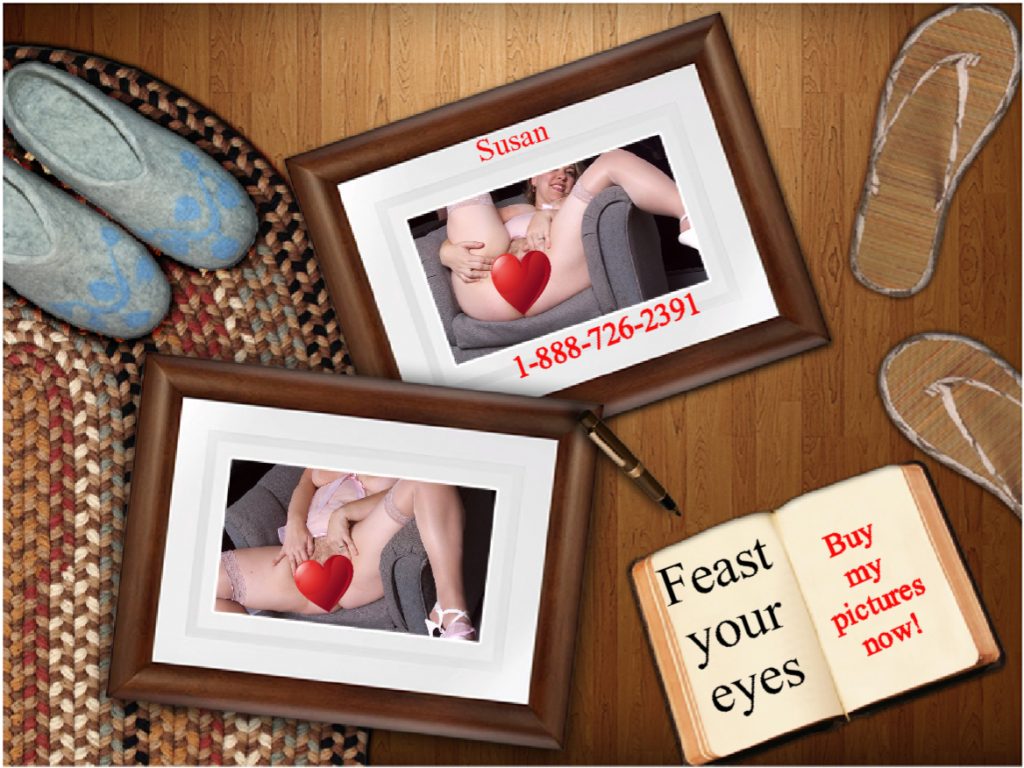 Don't wait Get my Photo set 1 today!
Once you make your purchase online you just click a link & download. It's so easy to get your hands on my Photo set 1. I would suggest getting them before our call. That way you have me on your computer. Spread nice & wide while enjoying my seductive voice.
Call me now after purchasing Photo set 1
Now don't forget to call me  after getting my Photo set 1! . After you purchase this set you will definitely be in the mood for more. Hearing my hot voice as you look at my pictures. Making our session so much more real. Adding to your desires & fantasies. I love finding out what makes you tick and getting you off! .
Click here to purchase and download.
Call me Now 1-888-726-2391!
Email Mommy at LadySusan342@outlook.com
Remember if there are any problems with your purchase We are here to help! I love making my callers happy. Webtokens GA provides some of the very best customer service! If you have any problem with downloading your purchase reach out to me & I will make sure your photo's get delivered to your email!